Rejoice Spellman marks, for we are going back to Greendale with the fourth part to one of Netflix's trendiest shows in The Chilling Adventures of Sabrina.

With important elements like plot, cast, release date, as well as a teaser trailer, Part 4 is coming together in one wholesome package. But beware of potential SPOILERS, because there's going to be plenty of them in this write-up. So read at your own risk.

Now hang tight and let's run through everything we've got for you.
Is There Going to Be a Part 4?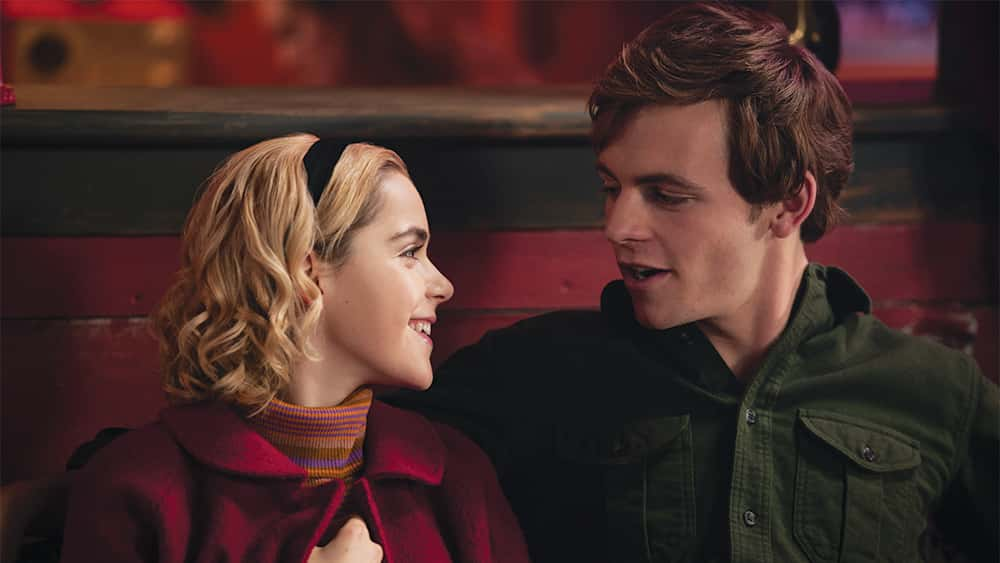 A little late for the party, aren't we? That's because Part 4 of Sabrina was already confirmed in December 2018, which is also when Netflix had the show renewed for Part 3. As a matter of fact, Parts 3 and 4 were confirmed from the official Netflix Twitter account as shown below:
It specifically states:

"Chilling Adventures of Sabrina has been renewed for 16 more episodes! Production begins next year and the next batch will air in two parts: Parts 3 & 4."
When Will Part 4 Be Released?
Hold your broomsticks! Part 3 just dropped on Netflix on the 24th of January 2020. This means that were going to have to wait a bit for the fourth chapter to come to the global streaming service.

However, the production for Part 4 is already underway with filming expected to finish up in February 2020, which is right around the corner. Also, if we were to go by the pattern of how the first two parts were released (Part 1 released in October 2018, Part 2 was released in April 2019) we can assume Part 4 to hit our screens by the closing of 2020.
How Many Episodes Will Part 4 Have?
When Netflix made the announcement to renew The Chilling Adventures of Sabrina for a third and fourth part, a total order of 16 episodes was made. And since Part 3 had eight episodes in it, it can only mean that Part 4 will also have eight episodes. Also, given that each of those episodes will feel like a mini-movie according to an announcement made up from the showrunner Roberto, fans will have all the time in the world to see how much trouble Sabrina causes in hell.
Part 4 Plot
Here's where things get spoiler-heavy. Last chance to turn away if you haven't caught up with the show.

In order to settle the atrocities happening in Hell, Sabrina did the unthinkable, which resulted in a paradox creating two versions of Sabrina in the existing timeline. The first Sabrina will be able to return to Greendale and live her life as a normal teenager whereas the other will assume the title of Queen of Hell and take care of matters there.

Fans also saw that Father Blackwood had seemingly aligned himself with the pagans until he got away due to the Mark of Cain. Even completed the ritual that would summon the Eldritch terrors, which are even more powerful than the Dark Lord himself, unleashing this creature within the egg that he got from Scotland.

We are not exactly certain about what else will happen in Part 4 or where it's going to pick up from exactly, but according to the show's captain Roberto Aguirre-Sacasa and what he told The Wrap, Part 4 would possibly be "following both Sabrina's simultaneously going forward."

He said:

"We are still shooting and we're kind of down to our last few episodes of Part 4, which has been really, really fun. Each part has its own kind of identity, and Part 4 is different from Part 3, where a lot of it was set in Hell, we still have that. But each episode of Part 4 is like its own mini horror movie, which is exciting."
Part 4 Casting
Apart from Kiernan Shipka who is obviously going to be returning for her own show, we can also expect reprisals from:

● Ross Lynch (Harvey Kinkle)
● Lachlan Watson (Theo Putnam)
● Jaz Sinclair (Rosalind Walker)
● Gavin Leatherwood (Nick Scratch, who is Sabrina's warlock boyfriend)
● Miranda Otto (Aunt Zelda)
● Lucy Davis (Aunt Hilda)
● Michelle Gomez (Queen Lilith)
● Luke Cook (Dark Lord, Lucifer Morningstar)
● Richard Coyle (Father Blackwood)
● Adeline Rudolph (Agatha)
● Jonathan Whitesell (Robin)
● Skye Marshall (Mambo Marie)
● Sam Corlett (Caliban)

There is still no word on new casting members, but will be sure to update the page once we get something from Twitter, Facebook, Reddit, and other social media channels.
Part 4 Trailer?
Well since filming has wrapped up yet for Part 4, don't expect the trailer anytime for the next couple of months.